May 16, 2022
Contents
What We're Watching
Notable News
Team Torrey Staffing Changes
Upcoming Hearings
Contact the Team
What We're Watching
Congress
Debt Ceiling
The debt ceiling discussion continues as the countdown until June 1, the U.S. Treasury's estimated X date, is just 15 days away. Over the weekend and on Monday, Congressional leaders and staff met to continue negotiations. A meeting is expected today (5/16) among President Biden and the "four corners" (House and Senate leadership). The items in negotiations include: budget caps, retracting unused Covid funding, permitting reform, and work requirements on federal aid programs. Treasury Secretary Janet Yellen reaffirmed the concern of a default as early as June 1 in a letter to Congressional leaders on Monday. The Treasury Department will continue to implement emergency measures and offer updated estimates for the X date in the coming weeks.
Appropriations
On the appropriations front, House Republicans are starting the markup process this week. First up is the Military Construction-VA bill set to marked up in subcommittee on Wednesday (5/17). This follows criticism from Democrats that Republicans will cut critical funding to those who need it, including veterans. Republicans, including Rep. Tom Cole (R-OK) are pushing back saying that, "We're going to scale back some spending, but that doesn't mean it's going to be equal across the board." In remarks to press, he specifically noted that the Pentagon and border security will likely not see cuts.
In addition, the House Energy and Commerce (E&C) Subcommittee on Health announced a Wednesday (5/17) subcommittee markup of 17 bills, this includes reauthorization of the Animal Drug User Fee Act (ADUFA). The E&C Communications and Technology Subcommittee will also markup 28 bills regarding the digital divide and access to high-speed reliable broadband on Wednesday.
CBO Baseline Projection Update
The Congressional Budget Office (CBO) recently released May 2023 baseline projections. The baseline score serves as a benchmark for funding decisions and proposed legislation for the upcoming Farm Bill. Based on the newest projections, the 2023 Farm Bill is estimated to cost $1.51 trillion, an increase from $31.5 billion estimated in February. Specifically, the Supplemental Nutrition Assistance Program (SNAP) projections increased nearly $18 billion, now totaling $1.223 trillion. Crop insurance outlays are estimated to increase by $4 billion, now projected at $101 billion and commodity support and related programs are estimated to increase by nearly $12 billion to $69 billion, including upward price revisions for major crops including corn, soybeans, wheat, rice, and peanuts. Conservation programs are now projected at $60 billion, a $2.5 billion increase from February. To see the full report click here.
The chart below shows a funding breakdown prepared by the Senate Agriculture Committee (Minority):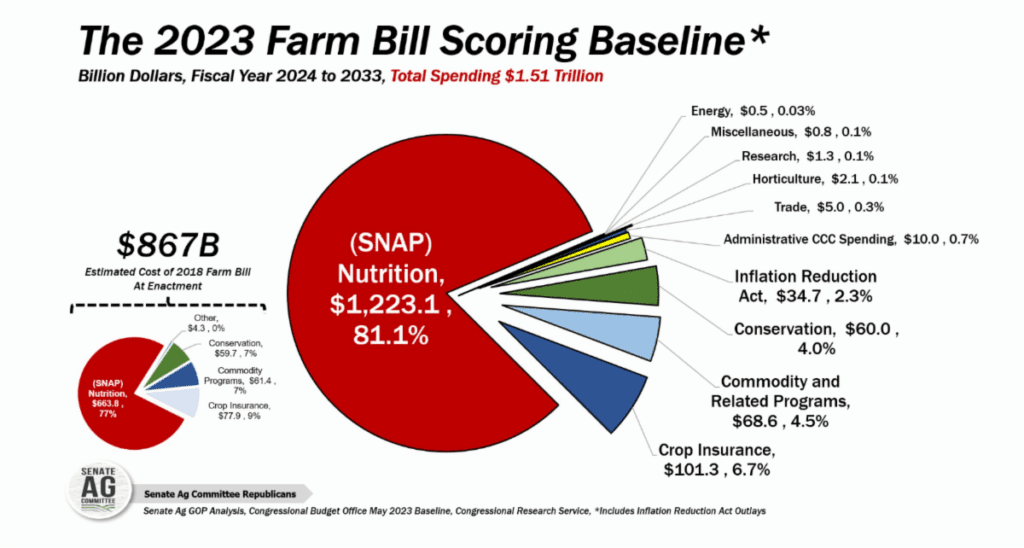 Administration
Last week, House and Senate Agriculture Committee leadership met with President Biden to discuss the upcoming Farm Bill. This conversation was not atypical, as recent administrations have weighed in with priorities on omnibus authorization bills. The main sentiment of the conversation, which notably remained positive, was a commitment to bipartisan and bicameral work needed to get a bill across the finish line and signed into law.
Supreme Court of the United States
Late last week, the Supreme Court of the United States (SCOTUS) announced a 5-4 ruling in favor of California's Proposition 12. Essentially California's rule bans the sale of pork that does not meet specific Californian production requirements, even if the animal was raised outside state lines. Justice Neil M. Gorsuch, cited in the majority opinion, that pork producers were unable to prove how the law allows discriminatory practices to protect the owners business and burden others. Specifically, he stated, "While the Constitution addresses many weighty issues, the type of pork chops California merchants may sell is not on that list." Animal advocacy groups applauded the ruling, while farm groups, including the American Farm Bureau Federation, opposed the ruling citing disappointment in the ability for one state to decide production practices for the rest of the country.
Team Torrey Staffing Changes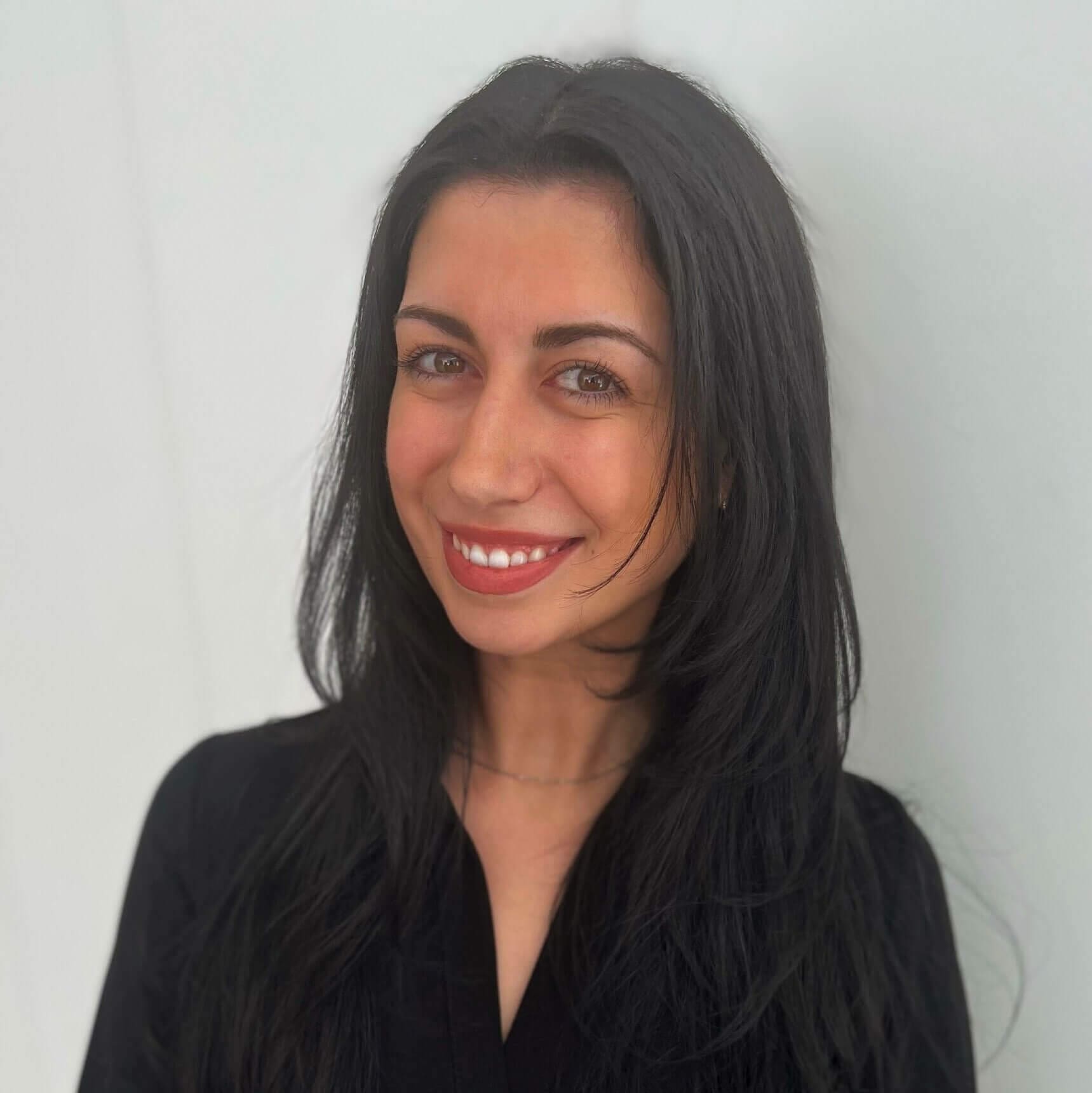 Torrey Advisory Group (TAG) is proud to welcome Olivia Lucanie to the policy team as Policy Manager. Through this role, she will work specifically with clients in the nutrition space, providing strategic advocacy and research support. Prior to joining TAG, Olivia served as a Senior Associate at the Prism Group. Lucanie also interned for Congresswoman Bonnie Watson Coleman (D-NJ-12). She received her B.S. degree in public health and a minor in economics from The George Washington University.
In addition, the Torrey Advisory Group has promoted Dr. Julie McClure to Vice President. Formerly, McClure served as Director. Ashley (Willits) Smith, who previously served as Policy Manger, has been promoted to Director.
Click here to learn more about Team Torrey.
Notable News
Upcoming Hearings
Tuesday, May 16th
Wednesday, May 17th
10:00 AM ET: House Energy and Commerce Health Subcommittee markup of 17 bills
10:00 AM ET: House Agriculture Subcommittee on Livestock, Dairy, and Poultry hearing to review animal agriculture stakeholder priorities.
1:00 PM ET: House Energy and Commerce Subcommittee on Communications and Technology markup of 28 bills
2:00 PM ET: House Committee on Oversight and Accountability Subcommittee on Economic Growth, Energy Policy and Regulatory Affairs hearing titled "Driving Bad Policy: Examining EPA's Tailpipe Emissions Rules and the Realities of a Rapid Electric Vehicle Transition."
3:00 PM ET: Senate Agriculture, Nutrition, and Forestry Subcommittee on Rural Development and Energy hearing to examine rural broadband, focusing on connecting our communities to the digital economy.
Thursday, May 18th
10:15 AM ET: Senate Finance hearing to examine tax incentives in the Inflation Reduction Act, focusing on jobs and investment in energy communities.
For additional hearings, click here.  
Contact the Team
Feel free to contact Michael Torrey, Tara Smith, Cassandra Kuball, James Glueck, Barbara Patterson, Katie Naessens, Caroline Snell, Danielle Nelson, Julie McClure, Ashley Smith, Olivia Lucanie, Perry Harlow, or Tracy Boyle with any questions or comments.
Food and agricultural organizations that need the right results in Washington, D.C. can trust Torrey Advisory Group to put its relationships, reputation, and expertise to work on your issue. Since 2005, the firm has successfully provided legislative and regulatory guidance, issues management, and association management services to a wide variety of clients. Learn more about us at torreydc.com.